How Much Should SEO Cost? Here's Your Answer with Stats and Facts…
So, the scenario goes…
You have a business or idea and you want to get people to know about it.  You're doing your research to choose a marketing plan that works for you, and SEO is something that's sparking your interest.  You like the idea of being able to set up your website and have sales coming in from online.  You're not sure if you'd want to create the content and do the research it takes to implement an SEO strategy, so you want to know "How much should SEO cost?".
This article will help.
If you're looking to grow your business and you want to go online, search engine optimization is the "holy grail".  Most website owners doing SEO get 50% or more of their traffic from the search engines, and SEO is HIGH ROI TRAFFIC!  With the growing number of internet users is a growing number of search engine queries and traffic to website owners!  SEO traffic can easily translate into tens of thousands, hundreds of thousands, or even millions of website visits every month.
Don't believe me?  Let's take a look at a big company to see where they're getting their traffic from.  Let's try Walmart. Take a look…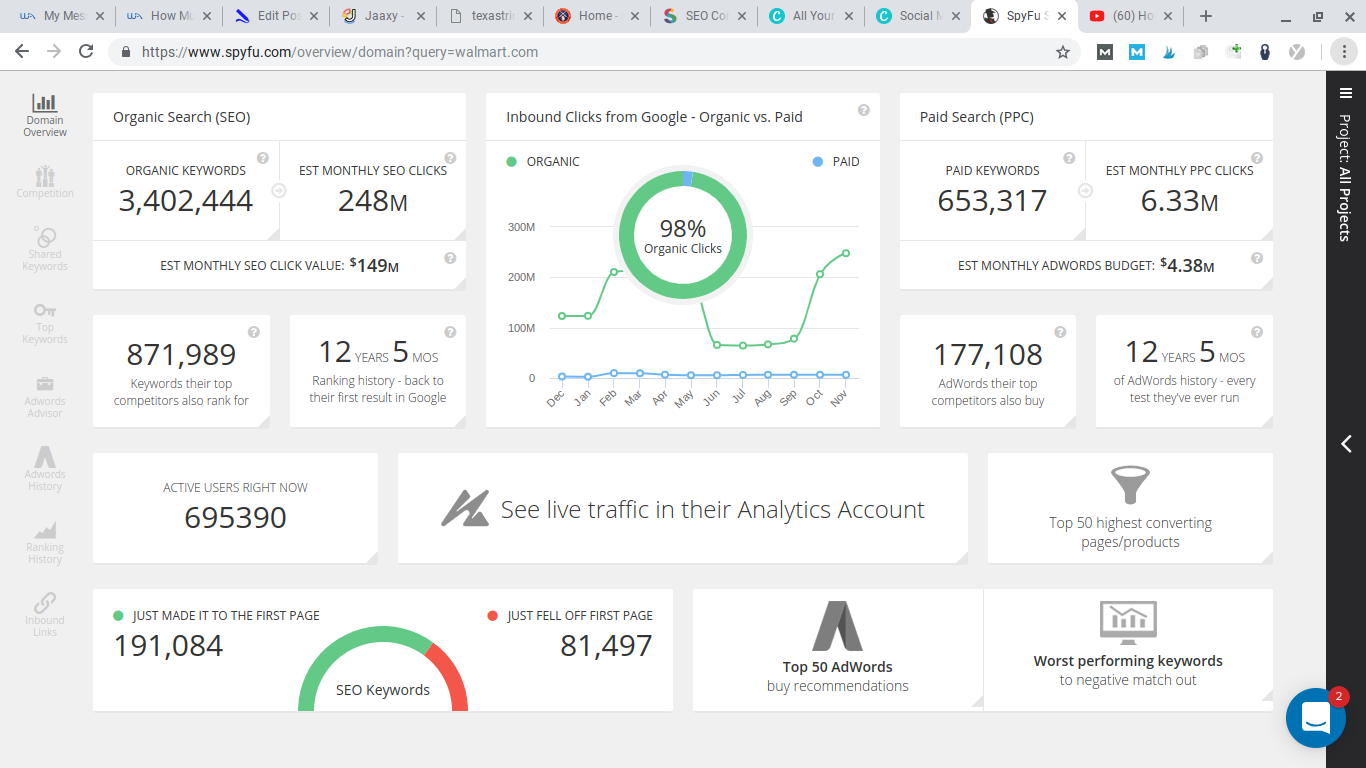 (Image Source: Spyfu)
On the left side where it says, "Organic Search", you can see they're getting 248 million SEO clicks per month.  Their organic traffic value is $149,000,000!  That means they are creating content and Google is sending traffic based on their credibility and effort at creating what's in high demand.  On the right side, you can see they're paying for some traffic as well, but they're not paying for nearly as much traffic as they have earned thru SEO.
If you think Walmart knows how to market a business, then I'd suggest learning a thing or two from them.  SEO is good and it works.
Let's Compare other Marketing Tactics
In contrast, billboard advertising, flyers, business cards, or other forms of advertising typically cost per item, per estimated impression, as a percentage of sales, or something else.  Since SEO doesn't require that you pay per click or per item, then it's possible to get extremely high returns on your investment.
Like any other form of marketing, SEO requires some upfront work: content creation, market research, and some technical skills.  Some people don't want to put in the work.  They'd prefer to focus on their trade and pay an agency to keep the leads coming to them thru SEO–that's where we come in.
You might be in the boat with other entrepreneurs who simply want to focus on their trade, but you don't want to be "bamboozled" with astronomical costs.  We completely understand which is why we wrote this post to explain "How much should SEO cost?".
The Factors That Make SEO Vary
Before I break down the cost, let me explain what factors cause SEO to vary…
The ingredients to getting a site to rank in the search engines includes:
Keyword research – Before creating content on a site, it's good to perform some research on the keyword to ensure you're creating content about a topic that search users are actively searching for. Keyword research using a tool like Jaaxy or Spyfu will reveal how many people search for the keyword your considering, how much competition there is, and more info.
Market research – Similarly, market research can help you understand who the search user is, what they're looking for, and ideas for how to satisfy their queries.
Website Content – Website content explains what the page or topic is about. For example, this article is written content. Some people create visual content and others create video or audio content.
Search Volume – When you do your keyword research and your market research, you want to ensure that you're creating content on your website that satisfies the demand of the search user.  A keyword with high search volume or a topic with high search volume has potential to drive lots of traffic when it's ranking well in the search results.
The Factors that Make it Harder to Rank a Website
Let's say, you decide to do your keyword research, write an informative article with those relevant keywords, and publish it on your website.  Is that all you have to do to rank a website in the search engines?
Unfortunately….No. That's a common misconception especially with the numerous amounts of scammers spreading false nonsense out there.  Instead, you also have to factor in…
Competition – Some industries and niches have more people that are competing for optimal positions in the search engines than others. For example, a construction services site in Los Angeles is likely to have more competition than a pet store in a small town. As a result of the increased competition, more content, more outreach, and more time will be required to rank a new construction services site in LA than to rank the pet store in the small town.
The credibility of the site – Added to that, Google and Bing are in the business of satisfying the search user.
Amount of Outreach – There are some site authors who do lots of public speaking, lots of public relations, and are constantly in the public eye. When they buy a new site, the word gets out fast, people begin to organically link to their sites, and they climb the rankings relatively fast.  If you are a person whose introverted, away from people most of the time, doing little outreach, and has a small social circle as a result, it will require more work to earn trust and honest quality backlinks.
Web Design – Regardless of how much content you put on a site, if the site is ugly, people will quickly leave.  When search engines notice people quickly leaving your site, they pull your result from rankings.
So, I Have a Brand New Site…Now What?
A brand new site with no content that wants to rank in the search engines will take an average of 6 months before they start seeing rankings organically.  During that 6 months, someone has to do keyword research, plan engaging content, learn about the target audience, perform market research, do outreach, and build the credibility of the site.  As a result, the beginning of SEO can seem like a lot of work for a low return UNTIL, the results drastically shift after the upfront work has been put in.
The first 6 months when the returns have not come yet can seem painful when you're starting out.  For this reason, we recommend clients who want quick turnarounds also add guerilla marketing, promotional products, outbound sales, event attendance, association memberships, social media ads, video marketing, and paid advertising commensurate with what their budget will allow.
With All of these Factors in Mind, "How Much Should SEO Cost?"
According to Rand Rishkin's recent survey of over 400 SEO Agency Owners and CEOs, SEO costs typically look like this:
(Image Source: Sparktoro)
As you can see most companies are paying between $1000 and $10000 per month on search engine optimization.
What Services Are Included in SEO Costs?
The service packages for SEO vary quite a bit.  Some clients want articles on their blogs, videos, graphic design content, outreach to acquire backlinks, tracking so they can see progress, keyword research, market research, and idea generation or consulting.  The depth each company wants to go on investing in SEO can range quite a bit. Some companies will want lots of content published, while others are okay with one article bi-weekly or so.  It really depends.
SEO agencies typically cater product packages to customer demands and their observations of what works.  Aside from content creation, SEO requires research time and possibly outreach time: sending cold emails, making cold calls, attending workshops, and more to boost the backlinks and site credibility.
Are Site Rankings Guaranteed?
While case studies can prove site rankings are pretty predictable after site credibility is built, no SEO agency can guarantee a site ranking organically by a certain day or time.  If someone tells you they can guarantee a page one ranking with a date, run fast!  Regardless of talent, SEO site rankings has lots of contingencies like:
How many blog posts are published per day
How efficient search engine employees and technology is working
How much content was published in your niche (possibly even with your keywords)
and other technical factors about your site like hosting (that's not necessarily a part of SEO)
How Long Does it Take to Achieve Top 10 Rankings?
While I apologize that alot of this information is subjective, there is data that can help us determine how long it takes to rank in search engines.  Here's a good video that explains data based on two million rankings:
In summary, the average website earned a first page ranking after 3 years and 5.7% earned one first page ranking in less than one year.  Websites that earn a first page ranking in less than one year consistently rank faster if they target low competition keywords, which is how an SEO agency can help.  While SEO has upfront costs (like any other form of marketing), following a good SEO strategy can offer high ROI traffic for a long period of time.  SEO can outpace other marketing options in costs, amounts of visibility, and overall conversions into sales.
Final Words on "How Much Should SEO Cost?"
The goal of this article was to give you realistic expectations when hiring an agency to do SEO for you.  There's a wide array of options and many "get traffic fast" schemes that speak a give a great sales pitch, but use shady practices.  Avoid these!
Search engines harshly penalize website owners who try to "beat the system with shortcuts".  Instead, you want to seek out an SEO agency, like KOHA Inc., who has been trained on what Google and other search engines are looking for, knows how to satisfy the criteria to get sites ranked, and will serve you well along the way.
Give us a call at (210)564-7749 or leave your information to schedule a FREE consult to discuss how we can help drive more traffic and sales to your business!
Now, it's Your Turn…
Have you paid for SEO services before? How much did you pay? Did you like the service you were given? Have you started a website using SEO? How long did it take you to get rankings? Leave your comments and questions below.